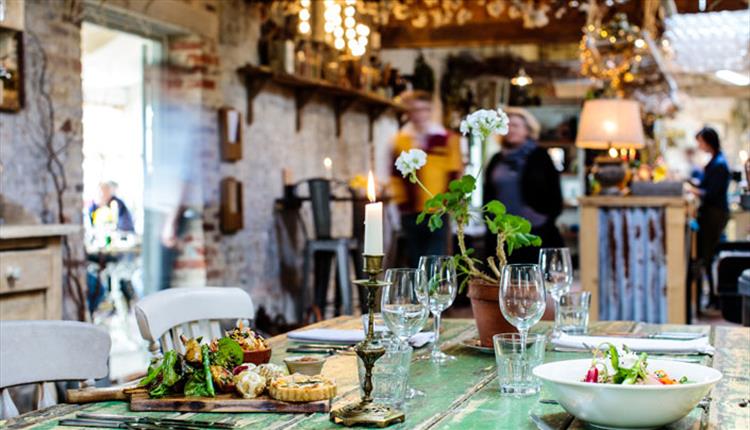 A beautiful 18th Century walled garden offering the perfect destination to relax, eat and shop. Enjoy strolling around the garden, which was recently named 'a special place' by the Weekend Telegraph.
Relax and unwind in the restaurant, either sitting in the garden under the apple trees, or on the terrace enjoying the views. Pythouse is not just for summer! The garden looks beautiful in every season, you will always be warm with our two wood burners. 
Opening Hours:  Open every day from 9am – 5pm
The Café is available for exclusive hire throughout the year.
Booking recommended.
Contact Details:
Address:  Pythouse Kitchen Garden, West Hatch, Tisbury, Wiltshire, SP3 6PA
Telephone: 01747 870 444
Beatons Tearooms & Bookshop is a small and friendly tearoom based in the beautiful village of Tisbury (just 19 minutes by train from Salisbury) and inspired by the style and elegance of Cecil Beaton. It is a relaxing place to meet, relax and enjoy a perfect cup of tea, have breakfast, lunch or afternoon tea, or browse the specially selected range of books for sale.
The Tearoom
Taking pride of place at Beatons is a range of over 25 loose leaf teas, brewed to perfection and elegantly served, or for the coffee drinker a carefully selected range of freshly ground regional coffees. Beatons is also becoming renowned for its range of homemade and specially sourced cakes.
The Book Shop
At Beatons we also sell a small but carefully selected range of books. From local country pursuits, speciality cooking, kids books and travel journals through to a range of local authors and those quirky and amusing titles people just can't put down.
Contact Details:
Address: The Lowings, The Square, Tisbury, Wiltshire, SP3 6JP
Telephone: 01747 871469
Messums Wiltshire is a leading multi-purpose gallery and arts centre. It offers artists and collectors a unique environment to experience and engage with creative endeavour. From the position that artistic expression started in our distant past, it provides the opportunity to reflect on the significance of the handmade across multiple art forms.
The galleries are open to the public Wednesday – Sunday. A day a week is set aside as free to access for schools to exclusively use as part of a broader educational remit that includes makers courses available to the public.
Our Mess Restaurant offers brunches, lunch, cakes and drinks as well as supper events.
Contact Details:
Address: Place Farm, Court St, Tisbury, Salisbury, Wiltshire
Telephone: 01747 445042
In Tisbury Deli, we have created an oasis of food heaven; lush cherry tomatoes from the Isle of Wight rub shoulders with the drooling milky softness of Italian Burrata. Magnificent Iberico hams relax in the company of the peppery juicy olives of northern Greece. It's a emporium of good taste.
Please drop in to say hello and to enjoy the beautiful displays, the tantalising smells and the delicious flavours. There's no obligation to purchase – although, mindful of Miss Piggy's advice never to carry more than you can eat, you might want to bring your biggest bag!
Contact Details:
Address: 6 High St, Tisbury, Salisbury SP3 6HD
Telephone: 01747 873111
Contact Details:
Address: 6 High St, Tisbury, Salisbury SP3 6HD
Telephone: 01747 873111
Contact Details:
Address: The Avenue, Tisbury, Salisbury SP3 6JP
Telephone: 01747 870273